---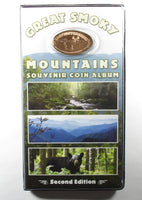 Sale
This tri-fold album is a great way to organize your pressed coin collection.  It will hold 40 of your pressed pennies and 4 pressed quarters.  It is made of an easy-to-clean vinyl and measures 6 inches x 3.5 inches.
The cover shows some of the most interesting things to see in the Great Smoky Mountains including bears and beautiful vistas.
Embedded in the cover is a limited edition pressed penny which says "Great Smoky Mountains" and an image of a deer and the landscape.